Regional Teams
On a run up to this competition things were looking up for the Junior team, however merely 5 days before the competition things started going down for the Juniors, Chloe had a bad fall off bars, Jess had problem with her feet and Julia did not feel very well on the day. From this the coaches just said lets see what we can do and go out there and enjoy it!
Seniors have had niggling on going injuries which has played them up for some time in the gym so doing lots of impact is never an option within the session. However clean safe routines was going to get them through the day.
Juniors
The Juniors started on the bars with Sophie, Julia, Jess and Danielle competing on this piece of apparatus, Julia went through a nice clean routine with a small step on landing, Jess performed her short clear for the first time and following her upstart had a small stop however she kept the rest of the bar routine flowing with a gorgeous top bar routine. Danielle competed her giant, giant backaway for the first time and did it with ease, to top it off she had a nailed landing as well. Following Danielle Sophie performed a very fluid bar routine competing her short clear for the first time and showing her beautiful giant shapes on high bar into another nailed dismount of a backaway.
From bars the girls moved to the beam, All the girls have a certain requirement of an acro series most gymnasts go with the backward walkover flick. Danielle started off the beam with a nice start, she did link her backward walkover flick but come to trouble when landing it and unfortunately fell. however picked herself back up and carried on with the rest of her routine beautifully. Jess was next and known for not being such a fan of her acro series did it with pure ease barely a wobble on landing however she then come to trouble with her full spin which is very uncharacteristic of her, like Danielle she showed her maturity and finished off her beam routine with a nice dismount. Julia was next showing her confidence on the beam with beautiful dance and solid leaps and a flick to two, however she started to loose her focus and nearly fell on dance, she tried to pull herself together but unfortunately fell on her backward walkover flick, she then had time to compose herself and then finish off her routine strongly. Sophie finished off the juniors beam with a gorgeous stuck routine, small wobbles throughout however finished off everything with her head up even on her backward walkover flick.
Next was the floor where some of the girls got the chance to show off their new routines, Julia went first showing off her new routine which was danced beautifully, with strong tumbles which she is looking to increase on later on in the year, Chloe was able to compete on floor with her injuries, and like Julia showed off her new dancey routine, including a new tumble of a full twist, this was a major leap for her which she did at the end of her routine showing good stamina in her routine. Danielle like Julia and Chloe was competing her routine for the first time also, putting in a new tumble of a straight front salto and actually having three tumbles in her routine which was also new for her, she danced well to her new music and had very strong tumbles which was really good to see in our team. Sophie competed a floor routine she knows very well and is very experienced with it, competing her full twist with loads of height, and her leaps like always were in split. For all juniors floor was a success.
Moving onto the final piece for the juniors being vault, Julia went first competing a new but unfortunately come to grief with on both, over cooking her first one and under cooking her second one which was unfortunate for her, however Chloe, Sophie, Jess and Danielle all performed the half on half off and stuck them all which was good news for the team !
After everyone's efforts the Junior team took 2nd place which was an amazing result for gymnasts and coaches ! well done everyone.
Seniors
Starting on bars we knew our start values would be down slightly however we was ready! Ebony went through her bar routine cleanly ! even with her sole circle and giants which have been proven troublesome in the past. Layla went through her routine cleanly as well, putting a full twist in her dismount giving her a "B" dismount. Ellie started off her routine very nicely however just come short on her mo-shoot in between the bars which was very upsetting for her however she pulled herself together and did a very nice high bar routine. Charlotte completed her bar routine with ease however was a little bit short on her short clear to handstand but managed to get her feet on for her sole circle allowing her to finish off her bar routine cleanly. Honor went through her routine with no stops or hesitation. This was a brilliant start for the senior team.
Moving onto the dreaded beam Charlotte went through a very clean routine with minimum wobbles good leaps and strong landings giving a good score for the team. Layla who is known for numerous falls off the beam showed everyone how it is done and stuck her whole routine including her flick layout without a wobble ! this was a brilliant performance for Layla and a brilliant score for her and the team. Ebony went next having slight wobbles within her connection but managed to stay on the beam as well which was brilliant. Ellie followed the trend and had a stable beam routine, even with her flick in which has proven troublesome in the past, she did it with ease performing a lovely routine. Honor went up last and unfortunately experienced a fall early on with leaps, however she then battled her fear of her flick sticking it without a wobble and finishing her routine off confidently with good landings, this was a brilliant rotation for the girls.
Then onto the show piece floor, Honor started off her floor with a beautiful twist to start dancing her routine off really well and in time to the music, also staying on her feet on her straight front was a big high for her. Ellie also did a beautifully danced routine with a lovely straight back to start with, and then finishing with a new skill for her which was the full twisting straight front, not having stuck any in warm up we was slightly worried however we now believe she was calling bluff as she stuck it easily to finish off her routine, following her routine we did get happy tears from her showing us how much that tumble meant to her. Layla shown us very explosive tumbles with her double twist, straight front and a straight front full twist to finish all tumbles were done with great dynamics and style. Ebony showed how well she could dance in her routine bringing a brilliant presence to the floor, not only that she was reaching for the celling with her first double twist tumble and then found her feet for her straight front full twist giving a very clean routine. Charlotte finished off this rotation with her very experienced routine, showing a strong first tumble however come to grief with her new tumble of her straight front full twist putting her hand down to slight lack of height which was unfortunate for her. However all in all this was another good rotation for the girls.
Moving onto the final piece of vault. Honor showing her half on half off with minimal steps at the end, followed by Ellie performing the same vault sticking it well. Ebony then performed her pike tsuk with ease even though it has been a bug bear for her for the last week in the gym. Layla went next and although having brilliant height and technique, could not find her feet and unfortunately fell backwards, however she still received a very high score. Finally Charlotte got the chance to perform her tuck tsuk for the first time in competition and she showed us she was ready to do it! finding her feet without a wobble was the best way this senior team could have finished off.
After everyone's efforts the senior team was crowned East Midlands Senior Team Champions, taking the shield that has not been won by Coalville since 2007 when the team consisted of Jemma Thompson, Anna MacDonald, Jessica Woolerton, Laura Hewitt and Ellis Jarvis ! Such an amazing result, again well done to all coaches !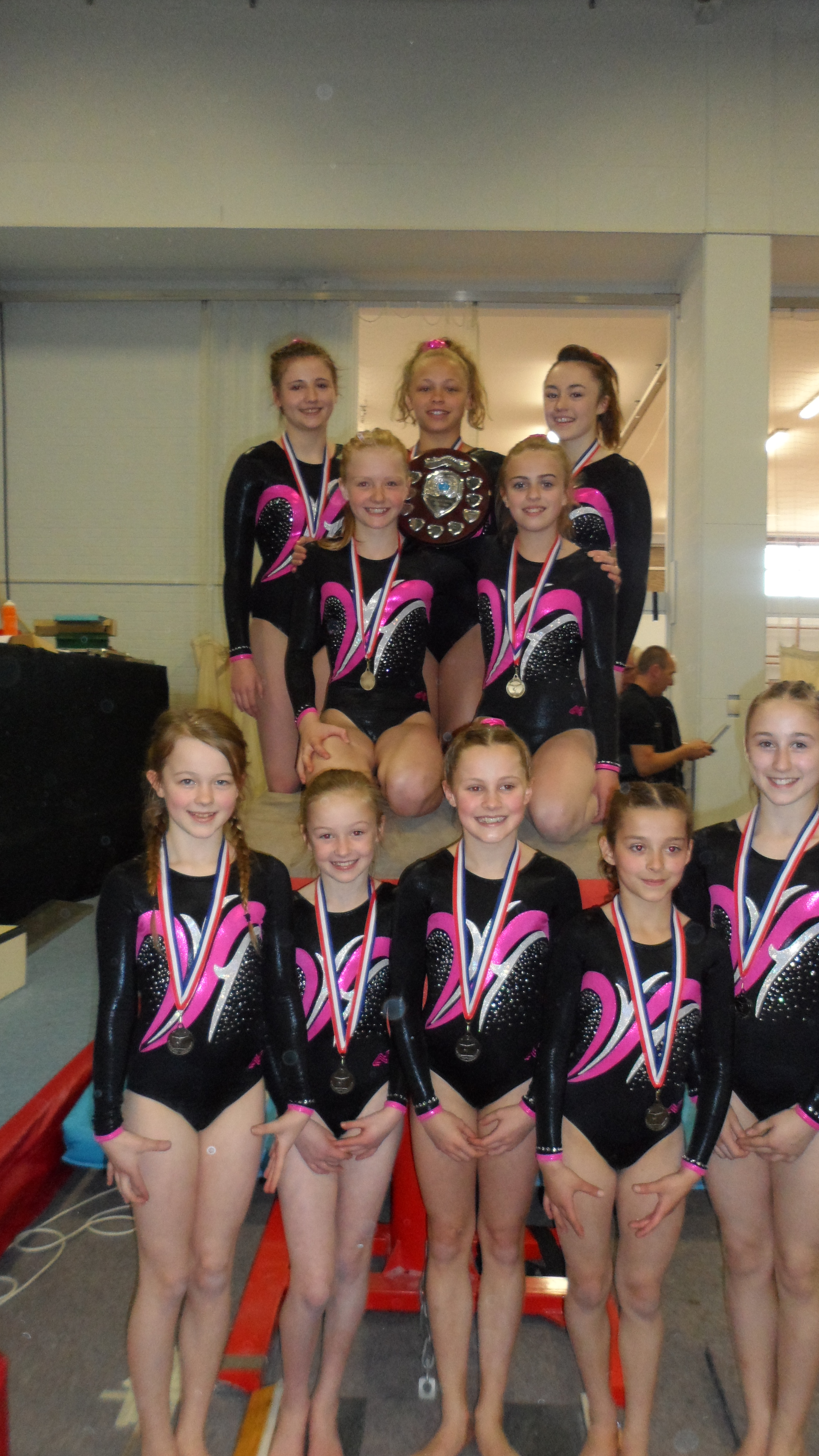 On the vault, Seniors
Back Row- Honor, Layal, Ellie
2nd Row- Charlotte, Ebony
Front Row- Danielle, Julia, Chloe, Sophie, Jess